Accessories
QPP Tubular Style Triangle Beaters
QPP Tubular Style Triangle Beaters are meticulously hand made to exacting standards in order to enhance brilliant overtones in your triangle sound. Made entirely from premium grade stainless steel, all beaters are 23 cm (9" ) in length , accurately balanced for weight and hand polished for a high quality finish. Tubular Style Beaters are available individually, as a pair or as a set or 6 pair. A set of Tubular Style Beaters also includes a heavy duty tear resistant cordura bag.
Rod - style triangle beaters are available in three different weights. Light, Medium and Heavy. These are supplied as a set of three pairs together with a vinyl case.
Traptables
QPP Trap tables are available in two different models to suit your needs.
Both models are supplied standard with an interchangeable cymbal holder / triangle holder as well as a short connecting rod to convert to a convenient flat style tray. Model T1 is a flat carpeted tray 400mm x 600mm ideal for sticks, mallets, tambourines, etc. Model T2 has three timber edged sides to prevent your sticks and mallets from rolling off.
Model T1. Suitable for glockenspiels and assorted accessory instruments or mallets.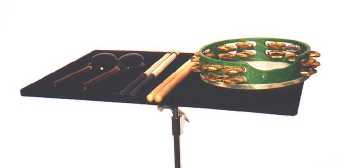 Woodblocks
Made from select grade Rock Maple and assorted hardwoods. Available in a range of voicings and sizes. Supported on felt feet for maximum resonance. Specific tuning available on request.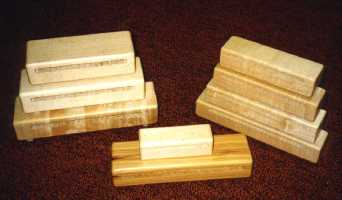 Click on icon below to hear woodblocks.